youtube videos

fl
ickr
Trump, annoyed by resignation letter, pushes out Mattis early WASHINGTON (Reuters) - U.S. President Donald Trump on Sunday said he was replacing Defense Secretary Jim Mattis two months earlier than had been expected, a

The newly appointed Ethiopian Somali State president "Mostafa Omer" allegedly paid 40,000,000 million Birrs to the Oromo region. He claimed that the money is Sept. 04, 2018


PEOPLE HAVE SPOKEN: with the Grace of Allah the almighty, on the day of joyous Eid ul Adha, one man's efforts and initiative changed all that hostility on August 21, 2018.

The Oromo region coup attempt on Ethiopian Somali regional State has failed. On August 4, 2018 in the early morning local time, the Oromo militia and its members of the federal army entered Jigjiga and surrounded the presidential compound in order to
BREAKING NEWS FROM MOYALE: July 20, 2018
According to information coming from Moyale, the Oromo terrorist open fire on two Somali citizens motorcycle riders between Marsha and Qiille in Hudat District, injuring both men but, they are expected to survive. One of the victim has been taken to Kenya for treatment. The other victim is resting in local hospital. It was said that the Oromo terrorists have failed to capture any location they have targeted to capture from Ethiopian Somali regional State. Now, when all failed, they are resorting to thuggery and ambushing unarmed civilian.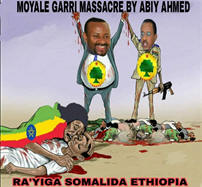 BREAKING NEWS FROM DAWA ZONE, HUDET AND DHEKA DISTRICTS, Southern Ethiopia, Somali Regional State. July 12, 2018
The Abiye Ahmed regime militias waged war on four subdistricts in Hudet, Dawa Zone, Ethiopian Somali regional state on July 11, 2018. They raided El Oroba, Amiko, Qile, and Sororo. They firebombed towns and indiscriminately destroyed thousands of homes before they were driven out by residents of those towns. Also, on July 12, 2018,

According to information coming from Moyale, war broke out on 3 fronts at Chamuq, Arbor, and Malab in Moyale District, Ethiopia. In addition, over 4000 heavily armed Oromo militia, police forces, and Al Shababa from
News update from Moyale, Dawa Zone: On June 11, 2018, Oromo thugs ambushed 3 Garri herdsmen riding motorcycle between El Gof and Lahey.
No Gaza inquiry, Israeli defense minister says Israel's defense minister rejected on Sunday calls for an inquiry into the killing of 15 Palestinians by the military during a Palestinian demonstration that turned violent on Friday at the Gaza-Israel border.

It has been reported that there are very high tensions in Moyale, between the Oromo and indigenous Somali people.

We have received information from Moyale, Dawa Zone, Southern Ethiopia Somali region, that the Oromo militia raided El Gof, Raro, and

We have received a disturbing news from Nagele District, Guji Zone. The newly trained the Oromo Al Shababa aka Qeero along with their police force have been terrorizing non-Oromo Ethiopian and Somali citizens living in the
A RESPONSE TO THE FABRICATED NEWS STORY CREATED BY DESPARATE BORANA OROMO
Trump praises 5 ex-presidents in video for hurricane relief concert
<![if !vml]>

<![endif]>Another Gharri herder was murdered and four others were seriously injured by the
A RESPONSE TO HAMZA Borana, you have tried so hard to manipulate and put words in the mouth of
Oromos are butchering the Garri herders as Ethiopia watches
Five police officers killed as Mandera governor survives IED attack
Congratulations to Fardosa Haji Hassan Sultan Robow for her graduation with
BREAKING NEWS FROM MOYALE, DAWA ZONE, APRIL 22, 2017
ON FRIDAY APRIL 21, 2017, the Borana criminal gang ambushed and murdered Mr. Abdulahi Mohamed Somo near El Gof, Moyale district, Dawa Zone. He was buried today on April 22, 2017. So far, this is the third victim in less than two months. This senseless killing is believed to be financed and encouraged by the Minnesota based Oromo Media Network.
Also, the same gang viciously attacked the Gharri cattle herders from Guji clan and stole 12 cattle. He was severely wounded and is now resting at Lahey Hospital. Violence from Borana gangsters is becoming rampant in the area.

The Oromo militias have killed one Gharri herder near El Gof just two days after they agreed on peaceful coexistence
Breaking News From Dawa Zone, Ethiopia WAR DEGDEG AH FEBRUARY 19, 2017
Wararka inaga soo gaaraya maanta, Dawa Zone, Degmada Mubarak Qabalah Elyabo (Gubba Bola) waxa lagudiley dad masakiin ah ee xoolah dhaqato 1. Hassan Husen Dhaka (Hassan Dima) 50 yrs, 2. M Sacid Sheikh Abdiraxim 20yrs, iyo 6 neef geel Degodia baa abbada kuleysey-

According to information received, 40 Oromo fighters were killed and 53 wounded militias were brought to Nagele hospital from Dheeka Suftu field. Also,
Messages from Gharri Community of North America -This Report was provided by Garre
There is a very high tension going on between the Oromo region and Somali region of Ethiopia.
Gharri people, land, and their herds -
Message from Hassan Robow Hassan Gababa
Message from Ahmed Shukri Al Kheer
Breaking news from Moyale, Dawa ZONE
RESPONSE TO SHEIKH ABDULAHI ABDI: Who is "Sheikh Abdulahi Abdi" (Abdulahi Haji Abdi)

The 2nd Mandera County Gharri national convention was held at the Wayam Secondary School campus in Banisa district on August 06, 2016. According to a
The Kenya Defense Force has unjustly terrorized the people of El Ram and murdered four small
The senseless killing of four small children of El Ram is nothing more than a brazen terrorist act. The Kenyan Defense Force's killing of innocent children in Mandera County and killing of unarmed Gharri citizens
Dawa Zone Project News Update June 18, 2016 - Duration: 3 minutes, 36 seconds
Dhedhertu Village This is first Dhedhertu film, and it was created on March 18, 2016. Dhedhertu

Dawa Zone Film Festival Video March 22, 2016. Jubilant Gharri people come to Lehey to celebrate creation of Dawa Zone by the thousands
An Arrest Warrant has been issued against Sheikh Adan Ibrahim: On Wednesday May 11, 2016, the Ethiopian Somali regional state president has declared Sheikh
Qadaduma district Festival Video Part two This film was created by Gur Gharri in association with garreonline.com and produced by Garri Ali Abdi Face Book.
Welcome to Newly Created Qadaduma District and its district-wide celebration Film
Festival part one
Dhedhertu Massacre site This is the Site of the Dhedhertu Massacre of 1977-78 & 1964-65.
Garri Ali Abdi wishing you Happy, Healthy, and Prosperous New Year 2016
BREAKING NEWS from Moyale, Western Gharri Region of Southern Ethiopia By Gur Gharri Dec. 06, 2015 History is in the making in Moyale, Ethiopia: The Ethiopian prime minister Haile Mariam Desalegn and Kenyan president
News Update from Western Gharri region, Southern Ethiopia: The Western Gharri region has concluded the selection of community elders that are
Gharri News Update from Western Gharri region, Ethiopia & United States of America
Mandera County News Update by Gur Gharri August 17, 2015
News Brief from Mandera County, Central Gharri region
On June 17, 2015 death toll from June 15, 2015 Degodia terrorist attacks has reached 6 and 7 injured
Gharri political report and analysis
Tensions are very High between the Gharri and the Borana Communities
Where are the most vicious and elusive home grown terrorists operating in Kenya hiding under the name of Al Shababa, the Somali terrorists?
The Real Terrorists are not in Somalia, but in Kenya's Statehouse and Wajir C
Welcome to the Gharri Traditional play called shabal
Gharri Cultureal show and film festival 2015 part 3
A panel discussion on the recently passed Kenyan anti terrorism
Gharri leaders Mandera and Marsabit Counties Gharri leaders speaking at
Celebration of Sultan Mohamed H. Gababa's leadership
A panel discussion on the current situation in Mandera County
Gharri Celebrates 50 years of Sultan Mohamed H. H. Gababa's leadership
What can be done to stop the resent criminal activities in Northeastern Kenya?
Late 18th and 19th Century Gharri leaders

Gharri History by the Gharri historian sheikh Abdiwahid Hassan. It is about the Gharri sultan Sheikh Abdimaliq who was a spiritual ... Produced by Gur Gharri
THE GABABA LEGACY &THE FUTURE GARRE GENERATION
Today marks the 50th anniversary of Sultan Mohamed Haji Hassan Gababa's
Sultan Robow Haji Hassan Gababa Commemoration of Robow Haji Hassan Gababa 50 years after his death
Gharri herds and its herders at Huddet district bore hole June 2014
Gharri Patriotic Song by inspiring young men

MANDERA COUNTY: 33 Degodia militia were captured in in the battle in