F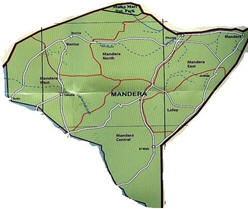 rom Banisa, Mandera County, Northern Kenya
The 2nd Mandera County Gharri national convention was held at the Wayam Secondary School campus in Banisa district on August 06, 2016. According to a participant at the convention, close to two hundred thousand people including honored guests such as the Masabit County governor Ukur Jatani, and his delegates gathered at the convention. They came from all over Mandera County, Nairobi, El Dorat, Namanga, and Moyale , Marsabit County.
The main question was whether to rotate the Mandera County administration, including the governor, or to extend their terms of office.
However, after hearing various speakers and listening to the opinions of the masses, they agreed to take the interests of the majority and uphold the previous agreement that was reached during the 2012 Gharri national convention of Takaba. They agreed to rotate the county administration for the upcoming 2017 Kenya election. So, the new team will be announced at a later date.
According to resolutions however, the agreement reads as follows: they divided four MPs and 18 elected Members of County Assembly's positions into Tuf and Ouranyowa sub clans. Each received two MPs and 9 MCAs.
In addition, they agreed that the governorship goes to Asare and the senator post goes to adola of Tuf branch, while Ali gets one MP and a woman rep. Also, Furkesha will vie for Takaba and Rhamo constituencies, the Ali will contend El Wak, and Adola will vie for the Bannissa constituency.
So, all sub clans were given few days to nominate their candidates and forward to the council of elders. IF the said sub-clans failed to reach an agreement, the maters will be decided by the Councils of elders. Therefore, we will late you know as the latest information become available to us.