According information received from Moyale, a Gharri Somali District in southern Ethiopia, the Oromo militias known as Humnan Darbattaama raided El Gof town on Friday July 27, 2012. The number of lives lost and many homes were burnt down by raiders. However, the invading Oromo terrorists were removed from town and chased out by local Somali citizens. Also, vehicles carrying about 138 heavily armed Oromo militants along with ammunition, food, and first aid kits were intercepted and captured by the Ethiopian army while they were heading towards El Gof on the same day the attacks occurred. Also, it was said that the Ethiopian army were heading to El Gof town to assess the alleged raid and destruction by Oromo militias when they encountered with those criminals. Subsequently, the alleged Oromo terrorists were disarmed and are now being held in Moyale.
According to news reports we have received from Moyale, there are no Ethiopians who crossed into Kenya seeking refuge. The report made by Kenya based red cross agency personal that says over 20000 Ethiopian civilians fled to Kenya after Moyale clashes is false. The alleged 20, 000 fleeing Ethiopian citizens who crossed to Kenya are actually Kenyan civilians who fled to Ethiopian from Hellu, Butiye, Odda, Mansile and Manyatta between January and February 2012. They are the same people who sought refuge in Moyale Gharri Somali District and the same people the Red Cross and U.N. have been providing aid to in Moyale for six months. Therefore, there are no such Ethiopian refugees who crossed into Kenya as reported by Red Cross and other politician. Therefore, these claims have nothing more than fabricated events by Oromo politician for political gain and Red Cross and U.N. agencies operating there, so that they too to receive extra funding. The following photo was used by IRIN UN agency news web page earlier in February this year. Please read the following articles.
<![if !vml]>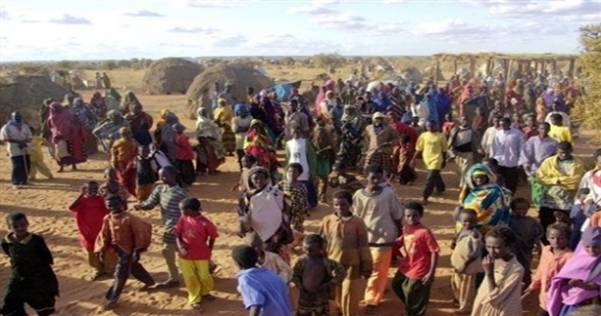 <![endif]>
According to news article posted on lots of web pages including Ayyaantuu News Online and UN agency web pages that we obtained, "Gabra and Borana: 20,000 Kenyans flee conflict into Ethiopia-UN February 8, 2012, NAIROBI (AlertNet) – Some 20,000 Kenyans have been displaced into Ethiopia following inter-ethnic fighting, the United Nations (U.N.) reported on Tuesday." This exact picture was used by IRIN UN agency News page in Feb. 2012. So, please logo onto http://www.portaltoafrica.com/news/africa/general/thousands-flee-fatal-clashes-in-moyale
These are Kenyans who have fled to Ethiopia and have remained in the country ever since. Now they seized the opportunity to go back to Kenya as Ethiopians, so that they will continue to receive help from UN and Red Cross.
Now, the Oromo terrorist juntas have been defeated in Moyale. Their dreams of cleansing out the Gharri people from Moyale, and subsequently from Ethiopia have been crushed by God fearing and determined Gharri Somalia citizens.
July 25 and 26, 2012 are days which will live on as days of ignominy for the Oromo. Their mighty powers have been obliterated and now they are nowhere to be found in Moyale. On July 25, 2012, the Oromo military commanders and security personnel held a fake peace conference between the Gharri and local Oromo administration and apologized to the Gharri people, after their initial hostile takeover attempt failed. All in order to deceive the Gharri people by making false statements. They expressed themselves as genuine peace makers, promising their willingness to work for peace and tranquility in the area. They pledged for continued peace.
The Gharri people agreed and accepted the Oromo's fake apology and dispersed their town guards, but as soon as the Gharri people began Isha prayer the Oromo began shelling heavy weaponry against the Gharri People. Their actions caught everyone off-guard, forcing women and children to flee from their homes in the dark without knowing what is ahead of them. Once they realized that they have no place to run to, they began defending themselves with whatever they could get their hands on. All hell broke loose and at the end the enemy forces were defeated, fleeing the town in disarray. These two days will live forever as the days of "infamy". Victory to the Gharri people, down with enemy.